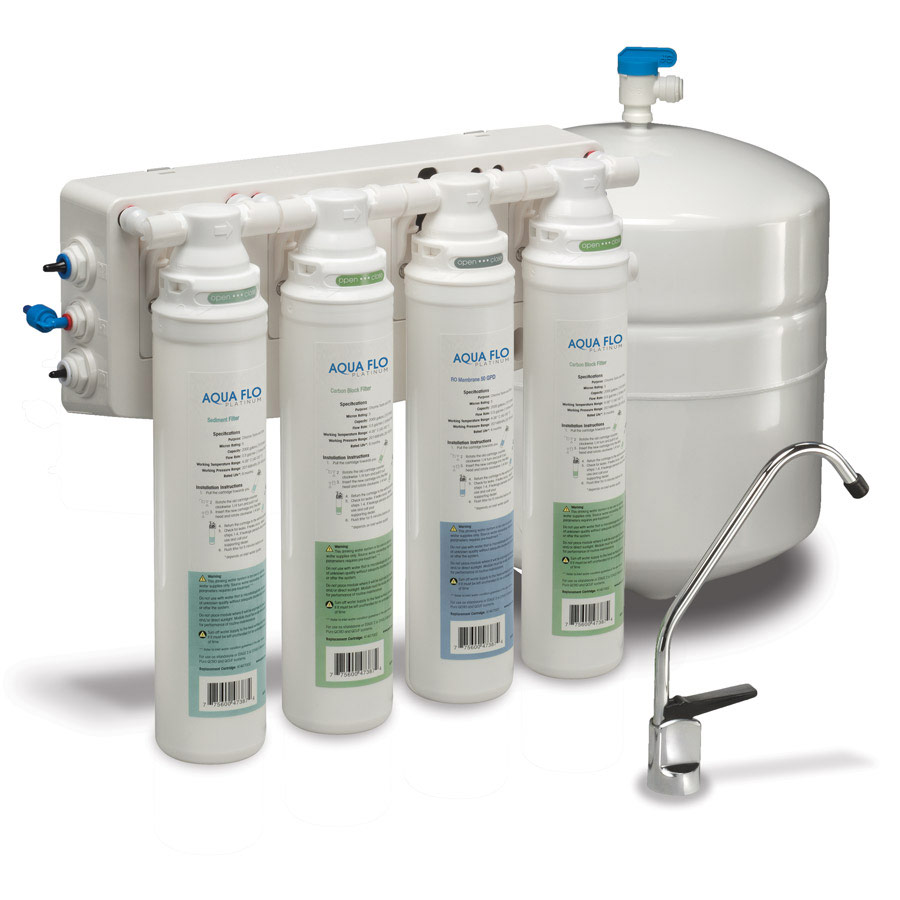 PURE-TEC REVERSE OSMOSIS SYSTEM
The Pure-Tec Reverse Osmosis System is your Customized Drinking Water purification system.
The Pure-Tec Reverse Osmosis System is your Customized Drinking Water purification system.
Water conditions can vary even in the same community. The Pure-Tec Reverse Osmosis System can be configured to meet your specific requirements. There are ten interchangeable filters with various treatment options that can be tailored to local water conditions, so your water is the best it can be!
If you're concerned about RO rejecting water or RO drain lines making installation difficult, we offer UltraFiltration (UF).* The UF does not have a drain line to run, your cost is lesser than RO and there is no waste.
DOWNLOAD PRODUCT GUIDE
CUSTOMER REVIEWS
Read what our satisfied customers are saying about Chicago Water Pros
I've used Chicago Water Pros for over 10 years now.

My system has always run flawlessly. Installation, service, and yearly service are always handled by them. It is an extremely easy and care free process. Mark's thorough and expert knowledge of various water conditions ensures that he can provide the best possible system. Having conditioned to water is a great ...

Already recommending to others.

Mark was outstanding! The entire process was easy, and he explained everything. Mark even followed up the next day to make sure the systems and newly installed RO faucet was running smoothly.

We had the Osprey system installed and almost immediately noticed improvement of our water cleanliness/hardness. Mark is professional and easy going, took his time to answer all our questions and figure out what's the best solution for our house.

Professional services highly recommended!

Installed water filtration system in a house with well water.

The process and final look were exactly what I expected.

Friendly and professional, had a plan which allowed for a straightforward installation—no surprises. We ran it through our crawl space to the required areas: fridge and sink. We're very excited to have the reverse osmosis system and looking forward to using it.

The quality of our water is so much better!

The quality of our water is so much better after Mark installed our new water softener and our reverse osmosis system has been great! There were few hiccups during installation but Mark was good about communicating with us and got things taken care of quickly.

Work was very professional and cost effective.

Mark is a great person. We used his services and his work was very professional and cost effective.

CWP was worth every penny and I highly recommend them.

Mark was on-time to meeting, very knowledgeable and also an honest salesman. I really appreciated that I had an old RO system under my sink from a previous homeowner and he said he'd bring some missing parts and re-Install the old unit without even trying to sell me a brand ...

They have been responsive, respectful, and kind throughput the entire process.

The team from Chicago Water Pros were knowledgeable and guided us through the process of selecting the right equipment to remove the iron from our well water and leave us with wonderfully clear and crisp water. The Reverse Osmosis tap is also a game changer for on demand drinking water. ...

We have been happy with the years of service from this company and would highly recommend them.

Mark comes every year and services our reverse osmosis system. He is on time, personable and professional and keeps us up to date in what we need to do to keep maintaining our system.

Been a customer for 10+ years, service is done with professionalism and quality.

We are very happy with his work and his prices were reasonable.

Mark installed two water filtration systems for my family. He is knowledgeable, reliable, and efficient.

I definitely recommend CWP for water filter installation.

Mark is a pro and knowledgeable person. Just finished installing water filter.

Had a whole house water filter installed and a reverse osmosis system. We had very eggy water from our well. The system that was installed resolved all issues.

After showering with the newly installed system, my eczema began clearing up right away!

Mark and his team were great at explaining what the filtration and softening systems did. I have severe eczema that was being more triggered recently and with all the hand washing, my skin would hurt all the time though I was already filtering out chlorine. My hands no longer hurt ...
Read More Reviews
Customized Drinking Water, Made Easy.
The innovative QC twist and lock design make service simple. Twist off the old cartridge and twist on the new—no messy sump removal. Pure-Tec systems make drinking water better and life more manageable.
Sediment Filters. Screens out sediments and particles. Various micron size filters are available.
Carbon Filters. Reduces elements that cause water to taste and smell unpleasant, including chlorine taste and odor.
Reverse Osmosis Filters. Reduces dissolved substances. Various capacity membranes are available.
Specialty Filters. Optimize drinking water taste and adjust to local water supply with a wide array of custom filter options.
Manifold Assembly. The single manifold ensures reliability. Houses four separate filter technologies in a unique space saving design.
Automatic Shutoff Valve. Shuts off the system when reservoir tank is full.
Reservoir Tank. Durable, high quality, powder coated, steel tank ensures you'll have a plentiful supply of refreshing water. Various size tanks are available.
Designer Faucet. Multiple styles and colors are available.
LEARN BASICS OF REVERSE OSMOSIS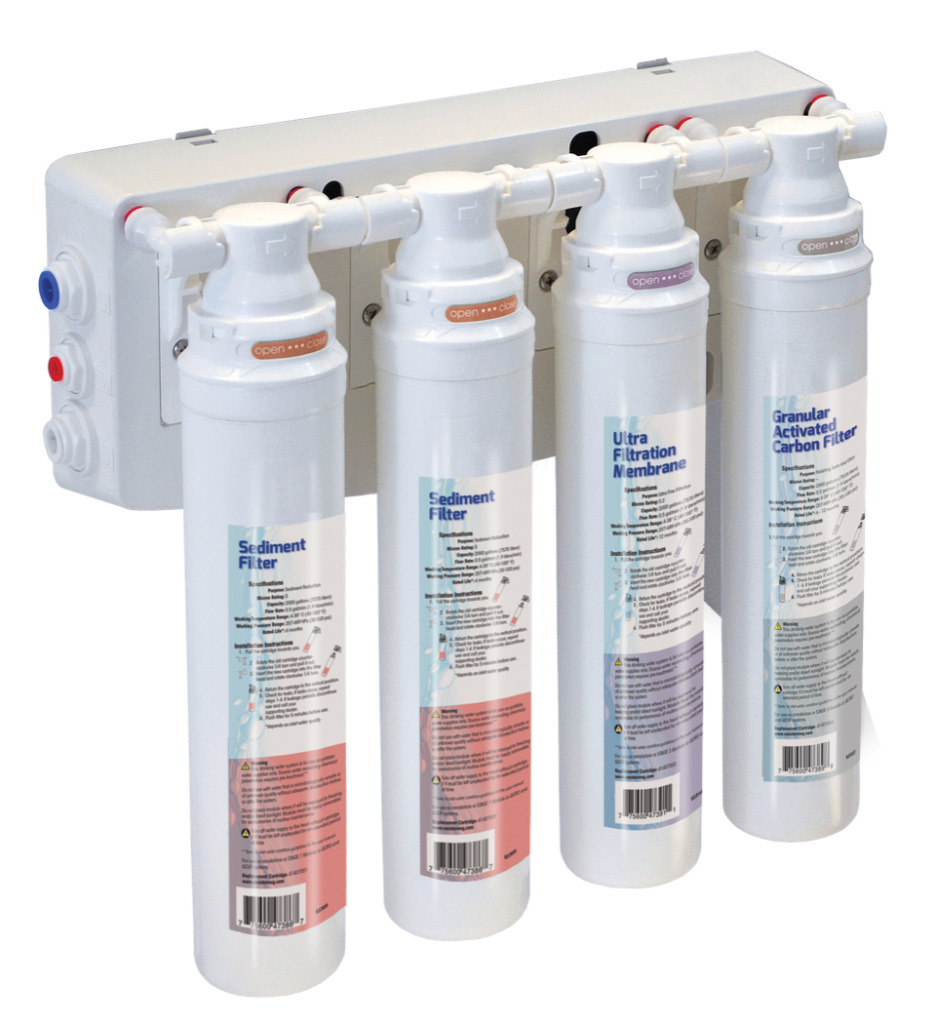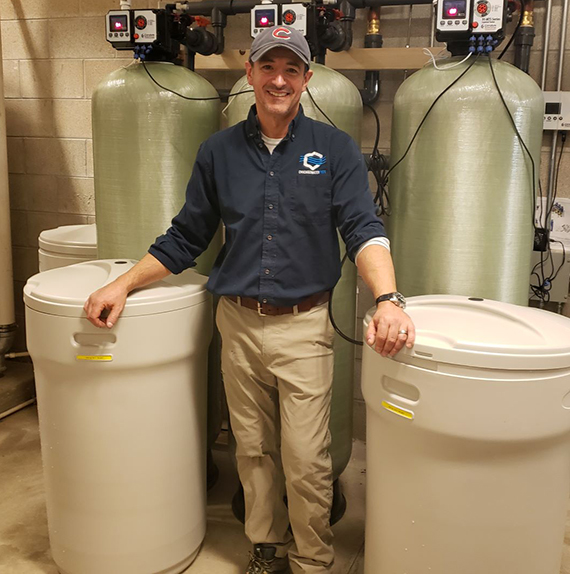 Chicago Water Pros: Chicagoland's #1 Source for Water Purification Systems & More
Chicago Water Pros is a family-owned company that has been serving the Chicagoland, Illinois area for over 20 years.
We've always operated with the goal of educating our customers on water quality and treatment options, first and foremost, then providing the most courteous and timely service in the industry. As a company, we specialize in whole-house water purification & water filtration systems in Chicago and the Chicagoland, Illinois suburbs, and we are trusted professionals when it comes to cutting-edge systems, techniques, and industry standards.
Our experienced and certified technicians and installers go through a rigorous training program and are all experts in the field of water treatment – we are also accredited with BBB and the WQA. Here at Chicago Water Pros, we take pride in our work, and client satisfaction is our highest priority. Click below to learn more about what makes us the right choice for your new water purification systems project.
LEARN MORE ABOUT US
Need a customizable reverse osmosis system?
Contact Chicago Water Pros to schedule an appointment to discuss your drinking water systems needs today.