WHOLE HOUSE WATER FILTER IN THE GREATER CHICAGO AREA
SERVING BARRINGTON, ELGIN, FRANKFORT, NAPERVILLE, WHEATON, AURORA IL
PLATINUM
Shop Whole House Water Filters
CWP-OSPREY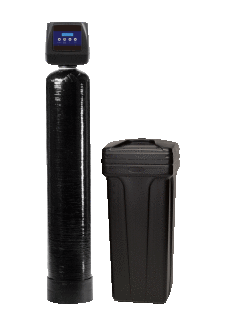 The CWP-Osprey is A Complete Water Refining System For Your Home!
Rid your water of hardness minerals (calcium and magnesium) PLUS filter out bad tastes and odors! Our unique two tank system keeps the two media beds separate, allowing for more carbon contact which greatly improves the removal of chlorine, chloramines and organic matter.
With our whole house filtration system, clean, filtered water emerges from every water source in the house. Chlorine and other chemicals (such as Radium, Barium, and Chloramine) are removed as soon as they enter a homes plumbing system and are no longer released into the air!
When chlorine and other chemicals are removed from water used for washing and bathing, these chemicals can no longer become embedded in clothing and it prevents chlorine vapors from being released into the air and inhaled in a hot shower.
Using a whole house water filter greatly enhances the overall healthfulness of drinking water and can alleviate the effects of asthma and allergies (for those who already suffer) by providing cleaner air to breathe in the house. Using a whole house water filter ensures protection from the carcinogenic effects of both drinking and inhaling chlorine and other dangerous chemicals
A whole house water filter is also the only truly effective shower filter. It filters water at low temperatures to facilitate the removal of harmful chemicals.
The use of a whole house water filter is the last means of protection from breakdowns in municipal water treatment and sanitation systems!
Because the carbon typically needs to be replaced before the softening resin, the two tank system allows for easy cost effective replacement. You get the same benefit as a separate water softener and whole-house carbon filter for a much lower price as the single control valve operates both systems.
Now you can enjoy truly refined water throughout your home!
DOWNLOAD PRODUCT GUIDE
REQUEST A CALL BACK
How can we help?
Ask a question, schedule an appointment, or set up a whole home water evaluation.
Leave it to the Pros – Chicago Water Pros!
630-847-8003